The Chinese city has turned to a new source to solve a shortage of foreign domestic workers, but a past deal with Myanmar and an ill-fated scheme in Singapore suggest there will be plenty of problems to iron out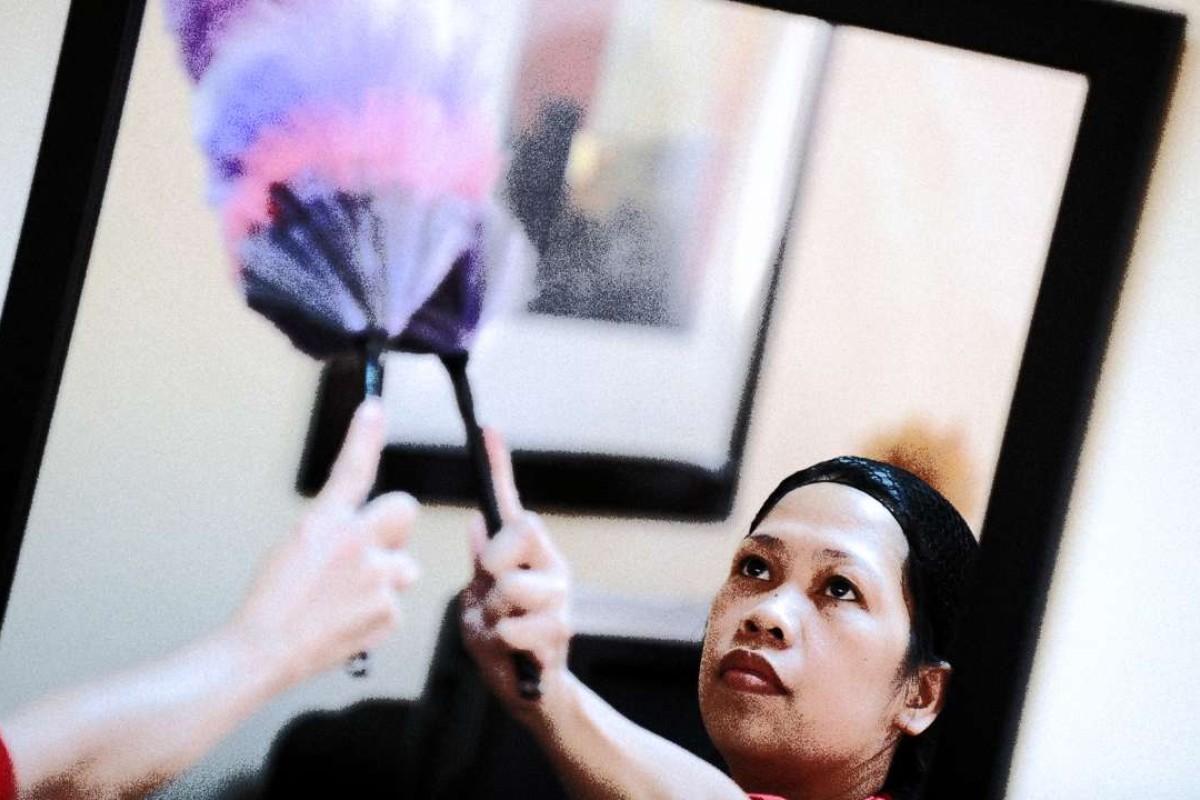 Hong Kong may hope to ease its shortage of domestic workers by welcoming its first batch of maids from Cambodia later this year, but if history is anything to go by the scheme could end up providing more problems than solutions.
Under a new five-year scheme, the first trial group of 1,000 Cambodian workers will arrive in Hong Kong this autumn, adding to the 330,000 foreign domestic workers – chiefly from Indonesia and the Philippines – who already work in the city.
But those five years could well prove tumultuous, worker advocates warn, as both Hong Kong and Cambodia have chequered histories when it comes to the exploitation of such workers.
The success of the deal, they say, will hinge on both sides' ability to stamp out corrupt practices among recruiters, improve worker training – and on whether the Cambodian government can muster the political willpower to act on cases of abuse.
Cases of abuse of foreign domestic helpers in Hong Kong surface periodically – in part an almost inevitable consequence of the large numbers working in the city – and often receive widespread media coverage.
Indonesian worker Erwiana Sulistyaningsih became a cause célèbre when in January 2014 she accused her Hong Kong employer of subjecting her to six months of physical abuse, with photographs of her injuries spreading through social media and prompting widespread outrage. So well-known did her case become that Time magazine included her on its list of 100 most powerful people that year.
But her case is far from unique; cases of helpers falling to their deaths while cleaning flat windows are not unheard of, while workers frequently complain of loan-sharking and exploitation by employment agencies.
One bad omen for the deal may be the arrangement between Hong Kong and Myanmar in early 2014 that envisaged bringing in 2,000 maids in the first year. Six months after their arrival, about one in five of the first 90 helpers had already returned home as they could not adjust to life in the city.
The Myanmar government later banned its women from working as maids in Singapore or Hong Kong because of concerns over abuse and exploitation.
In recent months, the Hong Kong government has moved to clamp down on exploitative practices, in part by introducing a code of practice for employment agencies.
"The government's code of practice and more staff to monitor the actions of employment agencies were good steps, but in reality, I don't think it goes far enough to make the Hong Kong [employment] agencies understand that they have an ongoing duty to ensure the safety of workers," said Jade Anderson, anti-human trafficking coordinator at the Hong Kong Justice Centre.
"And there is certainly anecdotal evidence of increased vulnerability to exploitation and trafficking for workers coming to Hong Kong without proper support networks or communities."
Abuses have been very poorly addressed [by Cambodia] with a system that is set for exploitation
Part of the deal between Hong Kong and Cambodia requires the helpers to undergo three months of cooking and health care training prior to their arrival, but Anderson said this was not enough to prevent exploitation and that more education was needed on workers' legal rights.
"Even after training, their language skills are still not sufficient enough to understand the reams of documentation that agencies place in front of them and ask them to sign. This is one area where there is tremendous scope for exploitation."
The workers will arrive this autumn from a country where the minimum wage is just US$153 per month, female education levels are low and corruption and exploitation commonplace.
Government data shows just 65 per cent of Cambodian girls in poor rural areas transition from primary to secondary school and by the time they reach senior years, at least 30 per cent have dropped out. But opposition lawmaker and women's rights campaigner, Mu Sochua, from the Cambodia National Rescue Party, says the dropout rate could be far higher, with only 14 per cent of female students in rural areas completing high school. As a result, many female Cambodian workers are desperate for higher paying jobs but are largely ill equipped for what the work will entail.
"An estimated two million youth are unskilled labourers in neighbouring countries. This will not improve without a vision, a real investment in the national budget and political will," she said.
"Abuses have been very poorly addressed [by Cambodia] with a system that is set for exploitation."
The treatment of Cambodian migrant workers overseas, in such countries as Malaysia and Singapore, has long been a matter of controversy. In 2011, Cambodia banned workers from travelling to Malaysia after repeated cases of abuse surfaced. That decision had an undesired effect – causing workers to go underground, leaving participants even more exposed to exploitation. The ban was lifted in 2015.
Reflecting on Cambodia's reaction to the abuse in Malaysia, Roiki Harima, managing director of the Mekong Migration Network, said embassies needed to play a bigger role in investigating mistreatment.
"To date, the embassies and consulates have not been responsive and that is something we want to see improved. Rather than bans, countries such as Cambodia need more political willpower to take concrete steps to improve the situation in receiving nations," she said.
In 2013, Cambodia signed up to an ill-fated pilot scheme to provide Singapore with migrant workers. Alex Au Waipang, of the Singapore-based Transient Workers Count Too, said many Cambodian workers had lacked the support, education and maturity to work overseas. "Being the first in a pioneering batch, there was no community to really help them adjust," he said, adding that the NGOs were equally unprepared. "Compared to Indonesian or Filipino workers … many Cambodians just wanted to go home. They were not ready to be domestic helpers. They were homesick."
Like the Hong Kong-Cambodia deal, training was promised as part of the Singapore pilot scheme. But Au said the training was either non-existent or ineffective as many Cambodian workers were familiar with neither modern household amenities nor basic English. "So what were they trained for, we wonder?"
In addition to cultural differences, Au, Sochua and Harima cited falsified documents and qualifications, underage workers, employment agency corruption and the unofficial licensing of rural recruitment agents in Cambodia as ongoing problems.
"Compounding the issues was that the girls were underage, not even adults and potentially not of the education level required," Au said of the Singapore experience. "About half the cases we saw were like that. There were so many things wrong, I hardly know where to begin."
Au said Hong Kong needed to inspect the situation in Cambodia as well as recruitment and training agencies in both countries. But above all, it needed to establish a community for the workers. "If we could do it all over again, I would first bring in the Cambodian men," he said.